External Output allows you to send audio and video out of vMix in a number of different ways:
1. To HDMI, SDI or Analog outputs through compatible hardware from AJA, Blackmagic Design and Bluefish.
2. To other applications running on the same PC such as Skype
3. To other devices on the network using NDI
Setting up External Output
Click the cog icon next to the External button in the main vMix window and then click Settings.

The External Output Settings window will be displayed. For more information on the options available see Settings - External Output.
Starting External Output
Click the External Button next to the Cog Button to start or stop the output.

Selecting a source for Output 2, 3 and 4
The Cog Button contains a drop down menu for selecting a source for any additional outputs in real time
(Available in vMix 4K and Pro)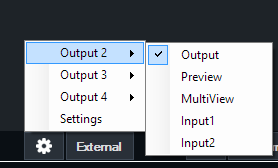 Key and Fill Output


See the Key and Fill output support section for more information.