Call Manager / Chat
vMix Call includes a call manager window that provides the ability to monitor all calls and text chat with guests.
Open the Call Manager by right clicking any vMix Call input and selecting Open Call Manager from the menu.
Call Manager Window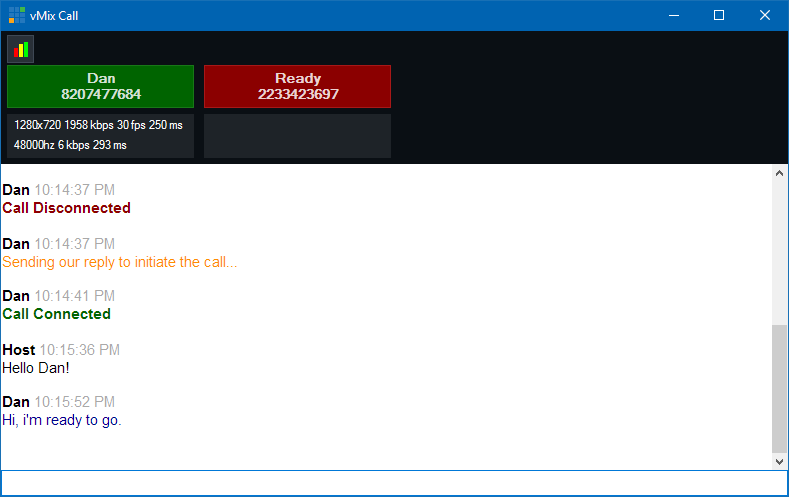 The Call Manager window lists the Name, Password and Receiver Statistics for each caller along the top panel from left to right, in the same order as the inputs in vMix.
TIP: Click any of the coloured panels to change what is displayed between Name + Password, Name + Input Title and Name.
The colour of the box listing the Name and Password indicates the status of that particular call.
Green: Call is connected and audio and video is coming in smoothly
Red: Call is either disconnected or no audio and video is being received
Amber: Call is experiencing dropped frames or missing audio due to current network conditions.
See Troubleshooting for more information on call connection and quality issues.
Chat


The chat window allows sending and receiving text messages to all currently connected guests.
Any message typed into this window will be seen by all guest in vMix, and any message sent by a guest will be seen by both vMix and any other guests within the same vMix session.
Status information may also appear in the chat list, indicating when a guest logged in with their browser and the progress of the connection.
Statistics


Statistics appear below the Guest's name during each call as described below:
1280x720 1958 kbps 30fps 250 ms
From left to right this indicates the video resolution received from the guest, their current video bandwidth, frame rate and jitter buffer latency.
48000hz 6 kbps 293 ms
From left to right this indicates the audio sample rate from the guest, their current audio bandwidth and jitter buffer latency.
Advanced Statistics
Advanced diagnostic information can be found by clicking the

button