Key and Fill output support
Key/Fill output is supported on selected Blackmagic capture cards.
Supported Devices
Decklink 4K Extreme / Extreme 12G / Pro

Decklink Duo 2 / Quad 2 (see additional configuration steps below)

UltraStudio 4K / 4K Extreme / 4K Extreme 3 / HD Mini

Bluefish444 KRONOS series cards
Configuration for Duo 2 / Quad 2
When using the Decklink Duo 2 or the Decklink Quad 2, port 1 will need to be configured in the Blackmagic Desktop Video Utility
to group together SDI ports 1 and 2 as shown below: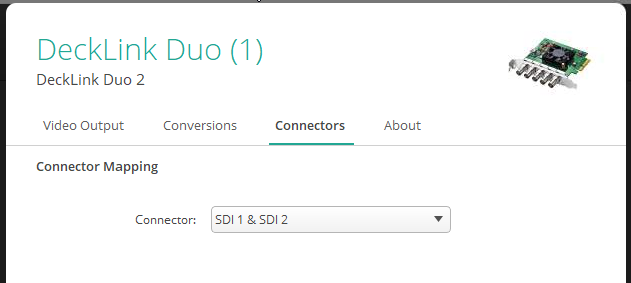 External Output Configuration


When selecting a supported device in External Output settings in vMix, an Alpha Channel dropdown box will appear as shown below:



None: No alpha channel, send the video output to the device as normal.
Straight: Output two channels over the device, Key + Fill on separate SDI ports. (This is also known as Linear)
Premultiplied: Same as Straight except the Fill channel will be "Premultiplied" check with the receiving device documentation to determine which of these options should be selected.
Blackmagic ATEM Configuration
The Key + Fill outputs will be sent over SDI 1 and SDI 2 (or SDI A / SDI B) respectively. These can then be connected to two spare inputs on an ATEM switcher.
From the ATEM switcher control panel keyer settings, these two inputs can be selected as Key and Fill to complete the process.