Settings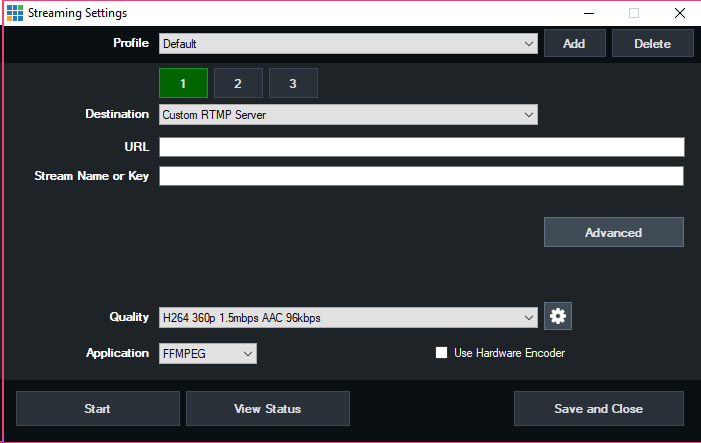 1,2,3 Buttons
These buttons allow streaming to up to three different streaming providers simultaneously. See Using Multiple Destinations for more information.
These buttons will only appear when selecting FFMPEG as the application. (See Applications section below).
Profile
Create one or more profiles with unique streaming settings, for example one for each streaming provider.
Only one profile can be used at a time.
Click Add to add a new profile that contains a COPY of the settings from the current profile. Delete to delete the currently selected profile.
Destination
Select from one of the built in streaming providers, or select Custom RTMP Server if you want to enter in the streaming details manually.
When using a built in streaming provider destination
Type in the username and password given to you by the streaming provider and click Login to retrieve a list of Channels.
Select the channel you wish to stream to.
When using Custom RTMP Server
URL
Enter in the streaming provider URL for example rtmp://example.com/live
Stream Key
Also known as a Stream Name or Stream. For example myStream
Advanced
Quality
Select the encoding profile to use for the stream. A number of built in presets are included or you can click the cog icon to customise these.
See Streaming Quality for more information
Application
FMLE
Use Adobe Flash Media Live Encoder as the streaming encoder. Requires Adobe Flash Media Live Encoder to be installed which is free from the Adobe web site.
FMLE has built in support for H264 video and MP3 audio. For AAC audio an additional plugin can be purchased from MainConcept.
FFMPEG
This is a free streaming encoder installed with vMix.
FFMPEG supports H264 video and AAC audio.
FFMPEG provides better quality and AAC audio support, but may not be supported by some providers.
Use Hardware Encoder


This check box is available for most NVIDIA graphics cards and substantially reduces the CPU usage of the computer when streaming by taking advantage
of the hardware encoder built into most recent NVIDIA graphics cards, including the 750, 9xx and 10xx series.
NOTE: NVIDIA GeForce cards support a maximum of 2 simultaneous hardware encodes.
This means if you record to MP4 with Use Hardware Encoder ticked, than only one of your streams can also have the Use Hardware Encoder checkbox ticked as well.
Otherwise you will receive an error message when starting the second or third stream. The Quadro series cards do not have this restriction.
Start
Save all streaming settings and start the stream. This button will light up Red when running in addition to the Stream button in the main vMix window.
View Status
View some technical information on the stream while it is running. This is useful when troubleshooting connection issues.
Save and Close
Save all streaming settings and close the Streaming window.