Web Controller
vMix Web Controller allows any web capable device to remotely control Shortcuts, Switching, Titles and also watch live streams using LiveLAN.
Additionally, it can be used to turn any mobile phone into a wireless tally light.
Examples of web capable devices include tablets, iPads, mobile phones and many smart TVs.
The vMix Web Controller is turned on by default and you can find the web site address to type in our device by clicking
Settings in the main vMix window and then clicking the Web Controller tab.

After typing in the Web Site Address into your device's browser, the following page will be displayed: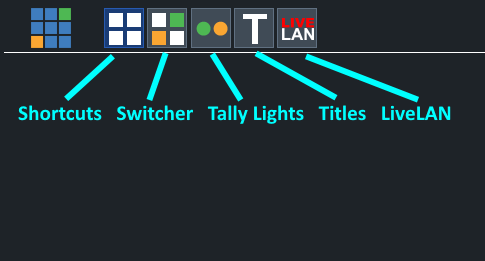 There are four buttons available:
Password Protection
Password protection can be enabled from the Web Controller tab in Settings by setting a password as shown below.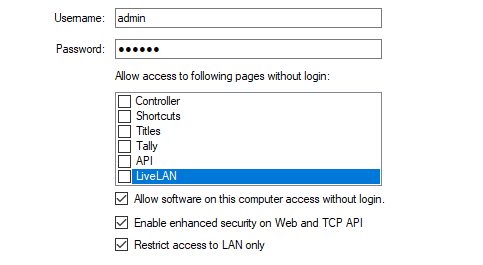 Access can be granted to individual pages without requiring a password by ticking the boxes in the list provided.
Note: If password is blank, no login will be required, regardless of the access settings.
Security


Additional security settings are described below:
Allow software on this computer access without login.
Regardless of password or page restrictions, ticking this box will allow other apps on the same computer access to all web controller functionality.
This is needed for apps like vMix Social which access the vMix API without a login.
Enable enhanced security on Web and TCP API
Ticking this box will disable certain features which may be pose risks on unsecured networks or computers.
For example this disables dynamic scripting, and also disables a web browser from running scripts that could in turn access the Web or TCP APIs.
Restrict access to LAN only
This is turned on by default and prevents all internet access to the Web and TCP APIs. If remote access to the web controller is needed
it is strongly recommended to ensure a firewall is used with adequate security policies in place before disabling this option.