« Back to Knowledge Base
Streaming settings for YouTube Live- Events
YouTube Live - Events
1. From your YouTube account go to Creator Studio: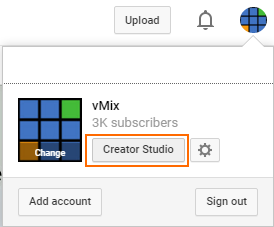 Then Under Live Streaming go to Events.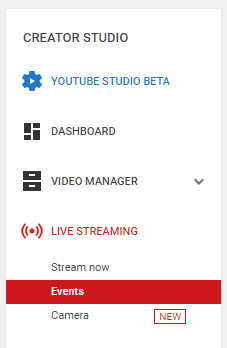 2. Configure your live event, then under Type select Custom and click Create Event.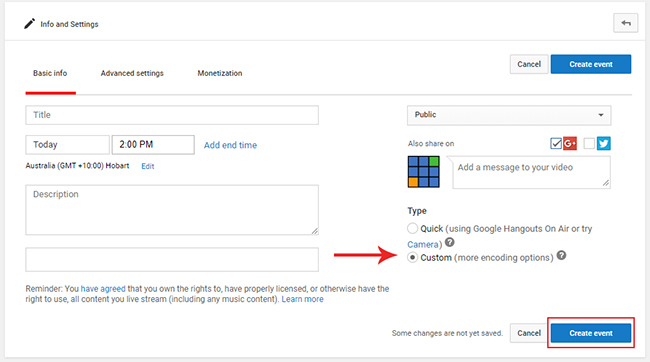 3. Next choose whether you
would
look to use a Single-use Stream Key or a Reusable Stream Key. If choosing the single-use stream key option it will use a variable bitrate based on the stream that is being sent to YouTube. If choosing the Reusable Stream Key option you will be asked to choose the bitrate range for your stream.
Below that select your Encoder which will be "Other Encoders". It will show a Stream Name value which is your Stream Key. Copy this stream name/key and select Save Changes up the top right corner.
4. In vMix under the Streaming Window, select the
YouTube Live
option from the dropdown menu. Then paste the Stream name that YouTube provided into the Stream Key field. Select or configure your stream quality settings, ensuring your bitrate setting falls within the bitrate setting set in YouTube. Then click
Save and Close
to save your YouTube Stream settings.
5. To begin the stream click the Stream button in your vMix window or open the Stream window and click Start to begin sending the stream to YouTube Live.
6. If you want to add these YouTube settings to vMix just open up the Stream window and click Add. Once there select a name for your YouTube profile.
For streaming to YouTube Stream NOW click
here
.
Last Updated: Wednesday, June 27, 2018 3:28:16 PM