Control Options
MIDI and X-Keys Controllers


The buttons on most MIDI and X-Keys controllers can be programmed vis the Shortcut feature to activate most functions in Instant Replay.
For more information see Shortcuts User Guide
Jog and shuttle wheels can also be used on supported devices such as the Behringer CMD PL-1 or the X-Keys XK-12 Jog and Shuttle.
Pay special attention to the Jog wheel configuration options when setting up a MIDI Shortcut. See Advanced MIDI Shortcuts


Contour ShuttlePro v2
The ShuttlePro has 14 configurable buttons in addition to the Jog and Shuttle wheels.
To buttons will be detected as MIDI buttons when creating a Shortcut in vMix.
See Shortcut Reference for a list of Instant Replay related functions that can be assigned.
The following diagram shows the functions that are applied when applying the Replay ShuttlePROv2 Template.
This template is found in Shortcuts - Templates.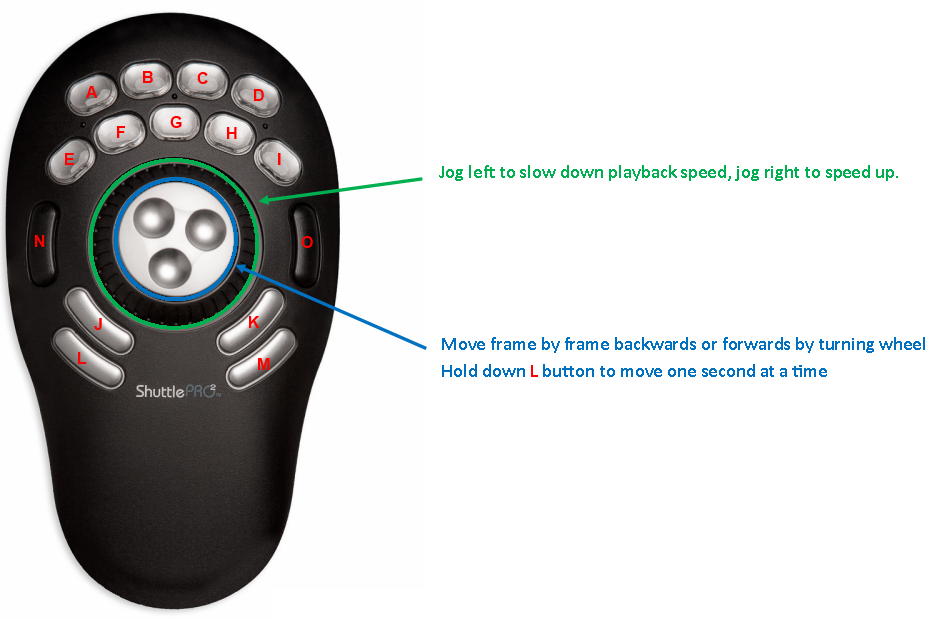 Keyboard
A number of keyboard shortcuts can be configured using the existing Shortcuts feature in vMix.
For a full list of what is available see Shortcut Reference.
Mouse
The mouse scroll wheel can be used at any time in the following ways:
With Shift key pressed: Slow down or speed up playback
With Ctrl key pressed: Move backwards or forwards one frame at a time.
With Alt key pressed: Move backwards or forwards one second at a time.