Templates
The Shortcut Templates feature allows you to import and export sets of shortcut keys and save graphical layouts for reference and printing purposes.
How to load a shortcut template
1. Click the template from the right hand list so it is highlighted green.
If you don't see your template in the list, click Import to locate the file and add it to the list.
2. Click the Apply button. This will override any existing Shortcuts that share any of the buttons.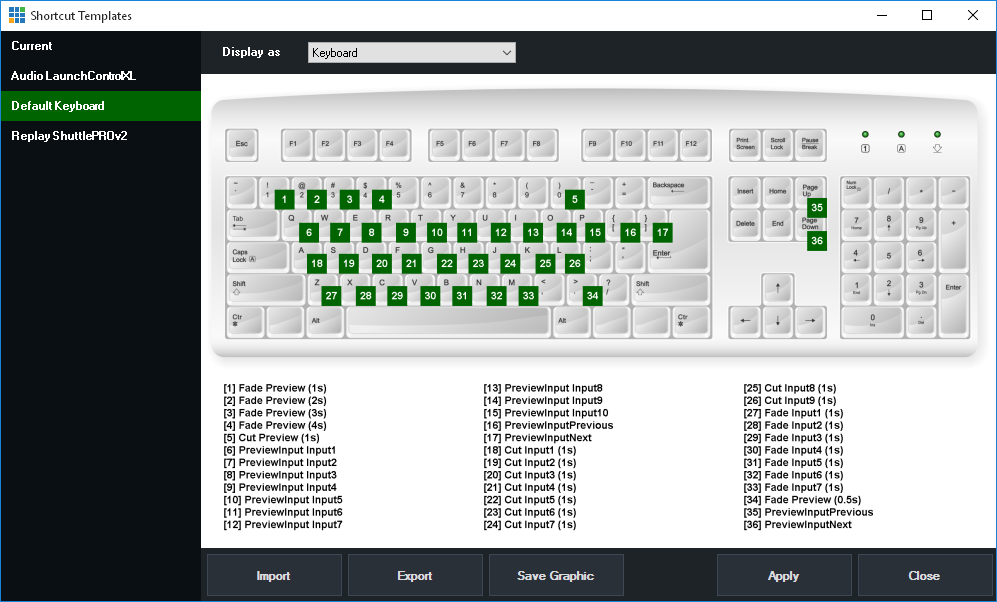 A number of templates are provided built-in:
AudioLaunchControlXL
This template is designed to be used with the novation LaunchControlXL USB MIDI controller.
It assigns the first 7 faders to the first 7 inputs in vMix and the final fader is assigned as the Master volume control.
Default Keyboard
This template contains the default keyboard shortcuts that were included with previous versions of vMix.
Replay ShuttlePROv2
This template assigns common Instant Replay functions to the ShuttlePROv2 USB controller