Mix
The Mix input allows adding up to 15 additional "mini mixers" that support basic transitions and cuts between two different inputs.
To add a Mix input, click the arrow next to Add Input in the main vMix window and click the Mix option.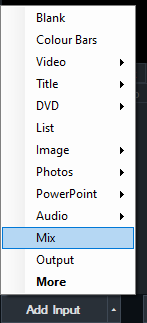 Note: Mix is only available in 4K, Pro and Max editions of vMix.
Once added, the input looks like the following: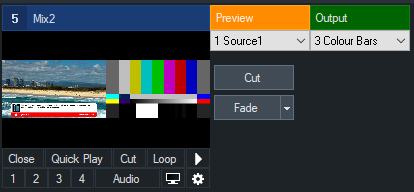 The Preview and Output dropdown boxes can be used to select the inputs you wish to mix.
Cut will cut between the inputs and Fade will transition between the inputs. Click the arrow next to Fade
to customise the transition effect.
Input Preview
The input preview window will show both the Preview and Output window side by side in the vMix window
and in the MultiView Output. (Except when in Output Only mode, see the relevant section below)
All other outputs will only show the mixed Output as expected, as demonstrated below: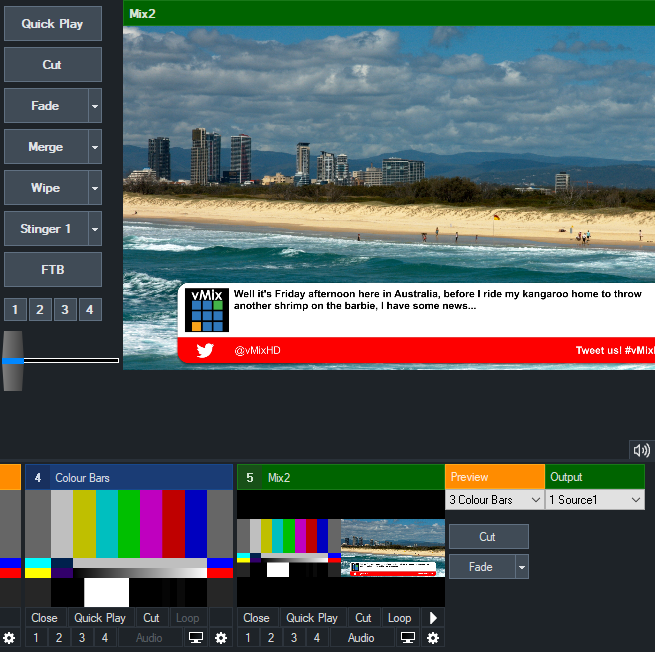 Output Only Mode
To disable the Preview/Output and Transition controls, right click the Mix input window and turn on Show Output Only.
In this mode, the additional controls will be hidden and only the output will be displayed.
The Input source for this mix can still be controlled via the right click menu and shortcuts can still be used to transition between Input sources if required.
Shortcuts
The following shortcuts can be used with an optional Mix parameter, where 1 is equal to the main mix in vMix and 2 is equal to the first Mix input.
PreviewInput
ActiveInput
Fade, Zoom, Wipe etc
Restrictions
The Mix input is intended as a basic video mixer/switcher only, as a result the following features are not available:
Stinger transitions

Overlays (inputs can still be setup manually through the standard input MultiView feature)

Auto play/pause/restart of inputs. (This is to prevent unexpected situations where inputs are used by both the main mix and an input mix)

Audio auto mixing.

T-Bar transitions

Re-entrancy: You can use a Mix input as a source of another Mix input as long as they are done in order. For example using Mix 3 in Mix 4 is possible, but Mix 4 in 2 is not.