Output
The Output input simply adds the current main vMix Output 1 (Program) as an input for use elsewhere.
This is handy for situations where a different source is needed for Outputs 2-4 or for a Video Call, but with the Program feed still showing as a picture in picture.
To add the Output input, click the arrow next to Add Input in the main vMix window and click the Output option.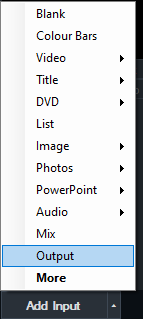 Note: This input is only available in 4K, Pro and Max editions of vMix.
Limitations


Sending to output: Note that while sending this input to the main output is possible and won't cause any errors, it will simply show the last frame over and over as it will be referring to itself.

Maximum 1 Output input at a time: For more copies, right click the input's clog icon to create virtual inputs as needed, or simply refer to input using a layer on another input.

Only Output 1 is supported: This is a side effect of ensuring all outputs are available in real time and without infinite loops. (For example, Output 4 is rendered after all others outputs and therefore would not be available for use)