Right Click Menus
Different types of Inputs provide a right click menu to quickly access advanced settings associated with a particular input type.
The following is a list of some of the right click menus available
Video
Show/Hide PlayBack Speed: Displays a dropdown box next to the input to control the speed of video playback in real time.
Pictures/PowerPoint
SlideShow Settings: Shows the SlideShow settings window.
DVD
DVD Menu, Next Chapter, Previous Chapter, Jump To Title
NDI / Desktop Capture
Change the NDI or desktop capture source on the fly using the right click menu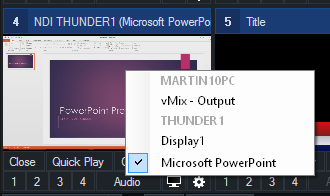 Titles
Title Editor: Show the Title Editor window.
Title Presets: The Titles right click menu will also show title presets if they have been configured.
List
Select a video or audio file to jump to in the List.
See List for more information.
Capture/Flash
Reset: Resets the input to the settings when it was first added.
Web Browser


Go Back / Go Forward
Properties: Displays a window to change the web site URL.