Right click menu settings
A number of settings can be adjusted for calls on the fly through the right click menu on each call input.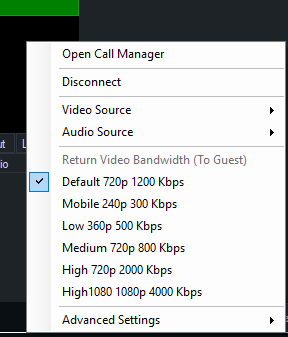 Disconnect
Disconnect the call. The guest will need to either refresh their browser or if using vMix right click and select Reconnect to connect again.
Video Source / Audio Source
Select a custom video and/or audio source to send the guest on this particular input.
Return Video Bandwidth (To Guest)
Select the video quality to send back to the guest from vMix. As this is generally used for preview purposes by the guest
it is recommended to select this as low as practical.
NOTE: This setting is the same for all guests and cannot be configured independently.
Advanced Settings
Remote Guest Video Bandwidth
NOTE: This applies only to guests connecting using a browser as vMix callers will have specified their own bandwidth manually.
Manually select the maximum bandwidth the guest can use when sending video to vMix.
This is set to Auto by default which will adapt to internet conditions automatically.
Allow only direct peer to peer connections
See the Setting up a Call section on this topic for more information.