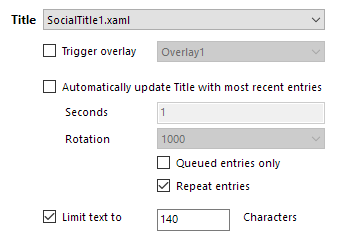 vMix Social will automatically connect to vMix and provide a drop down list of titles that are currently active in vMix.
Title: Select the title that you wish to update.
Trigger overlay
If you would like vMix Social to automatically turn on the title using one of the overlay channels, select this check box.
Otherwise the vMix operator can choose when to display the title.
Automatically update Title with most recent entry
Social Media content will automatically be sent to your vMix title when this check box is enabled.
Seconds: If the above check box is ticked, vMix Social will automatically find the most recent data every x seconds and update the selected Title.
Rotation: Select the number of previous entries vMix Social will selection from. vMix Social will select from these if no new entries have been received from the data source.
Queued entries only: Entries can be queued (or approved) from the Web Interface. Tick this box to ensure only approved entries are sent to vMix.
Repeat entries: Tick this box to allow vMix Social to send entries again from the rotation, even if they have already been sent previously.
Limit text to x Characters
Some data sources such as Facebook allow a large amount of text that may overflow the title.
Depending on the size of the title template you have selected, choose a text limit here.