vMix can be used for all of your live concerts, conventions or interviews. Not only can you use vMix to help create a great live production for those in your audience, you can now let people from all over the world experience it too via live streaming!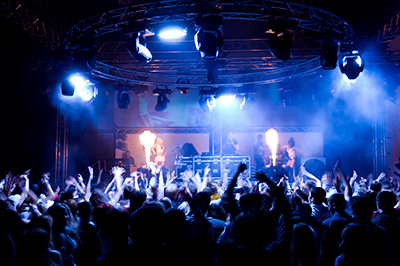 Utilise vMix to create a great live show!
Dazzle your audience with an amazing live production spread out on big screens and external monitors! vMix will allow you to really engage your live audience by adding camera feeds, titles, movies and audio and provide them with a memorable experience! The addition of vMix Social will help you to interact live with your audience as you can display live tweets to those attending. This is great for events such as graduations.
Record your event
If you are conducting a conference or a graduation, then being able to record the event is very important. vMix will allow you to provide a copy of the production to attendees, companies and people that were unable to attend.
Stream your live event....LIVE!
By streaming your event live you're giving yourself the widest possible audience! People can experience your production all over the world and this can enhance your brand and reputation. vMix gives you access to stream to many different providers and up to 3 streaming locations at once! Using vMix social allows you to add social media integration to your production so you can interact live with your audience!
vMix in Action
vMix in use at the Teradek NAB Live Show!
vMix was used to produce the 4-day 2015 Teradek Live Show at NAB in Las Vegas. vMix worked flawlessly through the week to produce the interview style talk show with many industry leading brands. With a reach of over 500,000 viewers, it's a great display of how vMix can be used effectively to reach a large audience.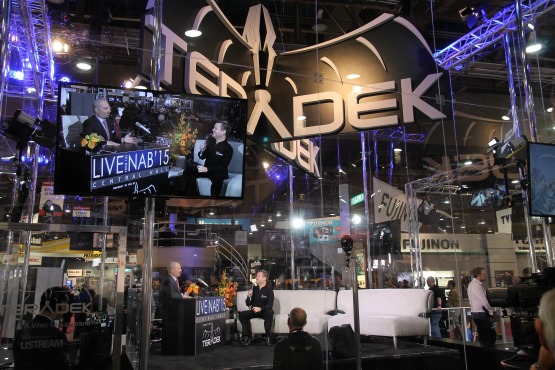 Teradek Live Show
Beginning in 2012, Teradek began producing a live show from the National Association of Broadcasters biggest yearly trade show dedicated to video production and content creation tools. They used their gear to produce a live show reporting on news generated by vendors from the trade show floor. This show is then streamed live online to provide updates and information for those unable to attend. Over the 4 day stream in 2015, 500,000 viewers watched via Ustream. The whole live production has been powered by vMix in 2014 and continued on in greater strength in 2015!
The Setup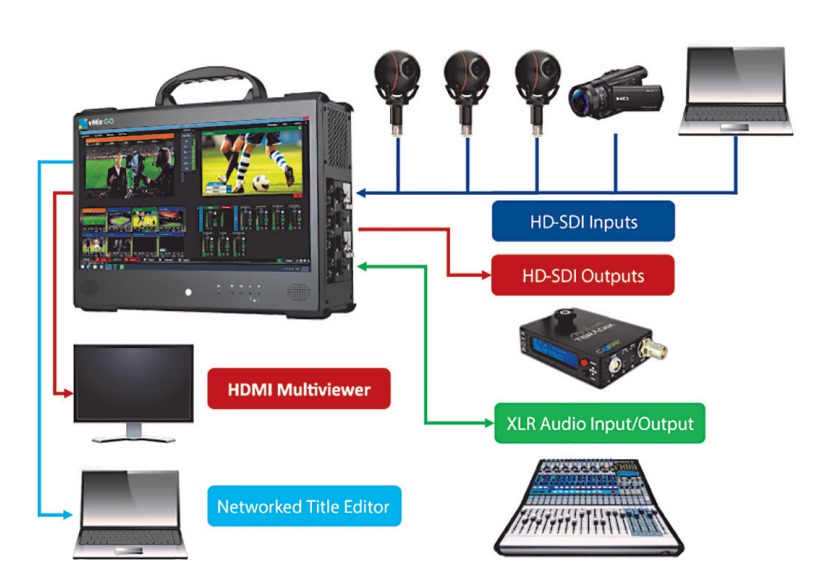 The Teradek Live Show configuration is similar to that which producers choose for sports, concerts, churches, or other live event productions. Multiple cameras, including remote-controlled Camera Corps PTZ units, were set up for the various camera angles of the host and guests. A handheld Sony PXW-X70 was used by the host for close-ups and a final input was brought in for a guest laptop to showcase software interfaces or other product-related information. These inputs were then fed into the vMix GO via the 8 input AJA capture card. Finally,the team used the professional, balanced XLR connectors to provide connections to and from a Presonus audio console.
The Verdict
vMix ran the Teradek live show for 4 consecutive 8 hour days with great success. Michael Gailing the marketing director at Teradek spoke about the choice of vMix at the Teradek Live Show, "We have a lot of choices in the industry, anything from Newtek TriCaster to Telestream Wirecast but we go with vMix. The software and the hardware that now comes with it have been phenomenal" . In summing up the show and the use of vMix Gailing said, "It just works, it is affordable, and we wouldn't be able to do the show without it, so thank you vMix!" So if you're looking to produce a great live show and stream to millions around the world, check out vMix!