« Back to Knowledge Base
Facebook Live Privacy Settings Overview
When streaming to Facebook Live, the privacy settings you can set for your live stream (such as "Public", "Friends" or "Only Me") are limited
by the privacy option selected when you logged in to your Facebook account in vMix for the first time.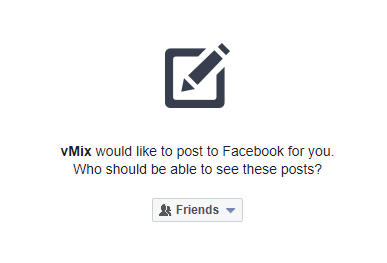 In the above screenshot, the login is set to a maximum privacy setting of "Friends" which means if you subsequently create a stream and set the privacy to Public, since Friends is a smaller audience, Facebook will create the stream with that privacy setting instead.
To allow the stream to be public, change the option here to "Public"
You can also change this setting later in your Facebook App Settings.
To find the app settings, open Facebook in a web browser and click the arrow at the top right hand corner and then click Settings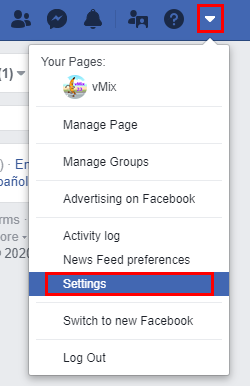 From the left hand menu, click Business Integrations

Click the vMix icon from your list of apps. A window will then appear. Scroll down to the section called Additional Business Integration Settings. From here you will see a setting that allows you to adjust the maximum privacy setting when using vMix:

It is recommended you set this option to Public which will allow you to select any privacy setting you like at the time the stream is created.
Last Updated: Monday, March 23, 2020 9:03:43 AM