Capture, produce and live stream sporting events with multiple camera angles and instant replay.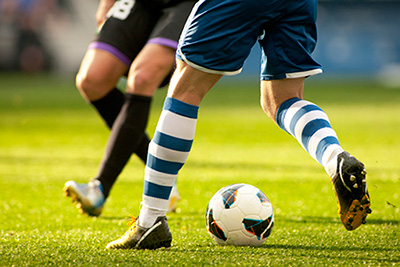 Use vMix to live stream your game all over the world
Streaming live sports has grown in popularity over the past few years. vMix allows you to bring a worldwide audience to your club and sport! Using vMix you'll be able to create HD streams that can be seen by fans both locally and all over the world! What better way to build a fanbase then to give them access to every minute of every game!
Create an amazing game day live experience!
Providing your live audience with a large screen for viewing is very important for most sporting events. People rely on this if they don't have a great view or if they want to see instant replays. With the advent of instant replay and video decisions, having live playback of the event is crucial. vMix enables users to create professional live instant replay for 4 camera angles! This is great for live viewers and can also be used in a video referee system or review process. This takes your normal live sports production to the next level!
Record your production for great highlights and post-match review
The recording on live sports is great for post-match editing and creating a highlights package. These recordings can be fully edited and then uploaded to the Club's website or Youtube channel.
Instant Replay with 4 camera live playback!
vMix PRO allows users to record 4 camera angles for Instant Replay and then play back those clips in the live production! Those clips can also be used to play at half time for a highlights package or exported for use on social media.
Interact with fans via social media
Using vMix Social, you'll be able to have fans interact at the game and through the live stream. Create and game hashtag and start displaying those tweets from people watching the game.
vMix in Action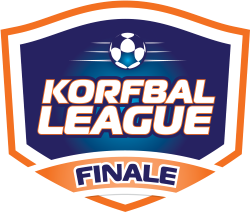 vMix being used to produce live korfball matches.
vMix is used to produce weekly coverage for the Dutch Korfbal league as well as the Korfbal League Final and World Korfball Championships!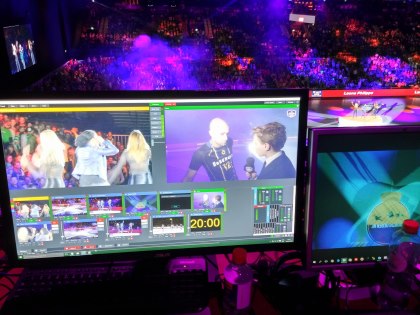 vMix and Korfball
Korfball is a growing sport in Western Europe, especially in the Netherlands and Belgium. It's a fast paced team sport that involves mixed teams and is similar to basketball/netball/handball.
The Korfbal League is the highest league of korfball in the Netherlands and vMix has been used to produce matches. Over the past few years korfball teams have begun live streaming their matches with bigger clubs such as PKC and TOP leading the way with professional multi-camera productions. The various production teams from the Dutch clubs join together to produce the livestream for the World Championships, Korfbal Challenge, indoor and outdoor finals.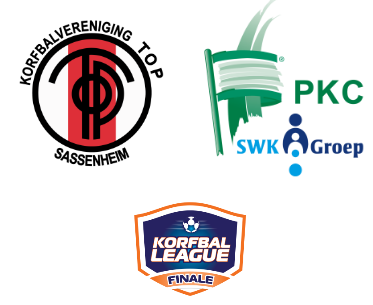 vMix in use for the Korfbal League Finale
Due to popularity, the 2016 Korfbal League Finale was moved to the Ziggo Dome in Amsterdam with a capacity of 12,500. The different korfball clubs joined together to form a production team of 27 people to produce the Finale! They live streamed the entire day's events which went for almost 8 hours. It turned out to be a very exciting match between PKC and TOP.
The Setup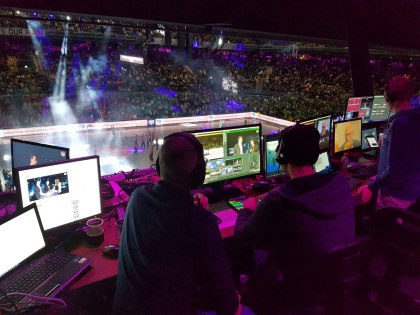 The live production consisted of 27 people, 7 cameras and and all day stream! As a result the whole production needed to be meticulously planned. The diagram below shows just how many cameras, computers, converters and devices were used to put it all together. They used 7 cameras for the production-
3x JVC GY-HM600 (for the match)
3x Sony HXR-MC2500 (for the studio)
1x Panasonic AW-HE130 (PTZ, fixed to the ceiling)
For controlling the production they used AKAI APC Minis and the MIDI shortcut functionality in vMix. They used Decklink Quads and Mini Recorders to to capture the cameras and some of the cameras were connected to Blackmagic SDI to HDMI converters. The output of their production PC was then used as an Input for their live streaming PC. The main computer contained a MSI GTX 980 4GB and an i7 (3rd gen) with the other computers using GTX 970s. A Behringer XENYX 1204USB PA was used to capture the microphones.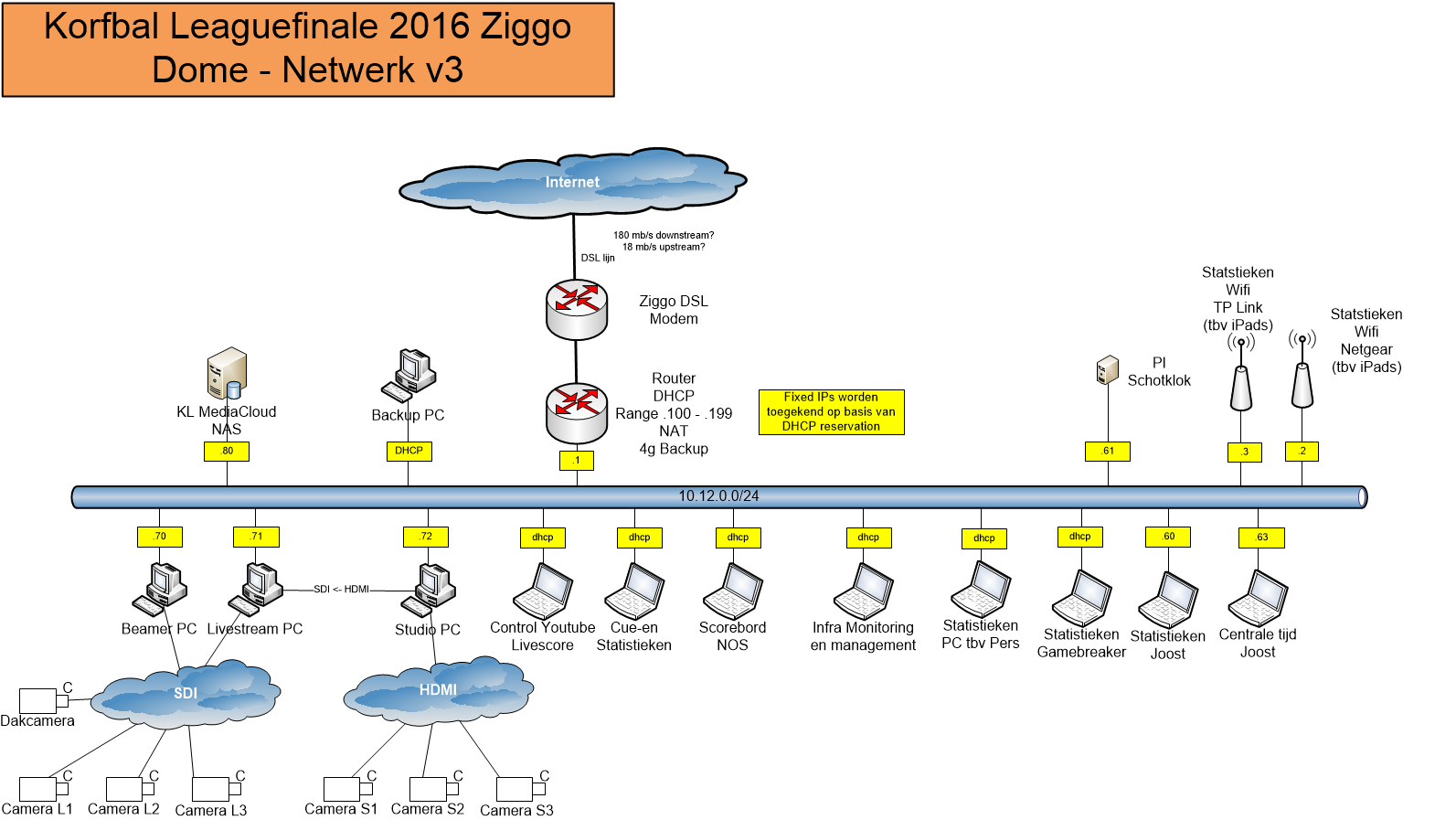 The graphics were created by using Adobe After Effects. The production used the Multi View in vMix to layer the animated XAML on top of the transparent MOV files. They also created they own application that reads the live match statistics which means they were able to seperately control the graphics from vMix using the API. The matches were then streamed out to the International Korfball Federation's (IKF.org) YouTube channel and also displayed on the arena's large screens.
Click the image to see their full setup! -->
The Verdict
Video production for korfball events has allowed the sport to grow and to be seen by a much wider audience. Through vMix, the production teams are able create professional broadcasts for high profile events such as the world championships. The flexibility of vMix allows them to produce and stream a local club but also larger events where television stations take the vMix Output for broadcast! Brian, the head producer of the Korfbal Finale notes, "vMix proves itself time after time that it is extremely suitable for broadcasting sports and it is by far the best and most advanced live video streaming software. The limitless possibilities of vMix enable us to keep improving the experience of our viewers."
vMix in Action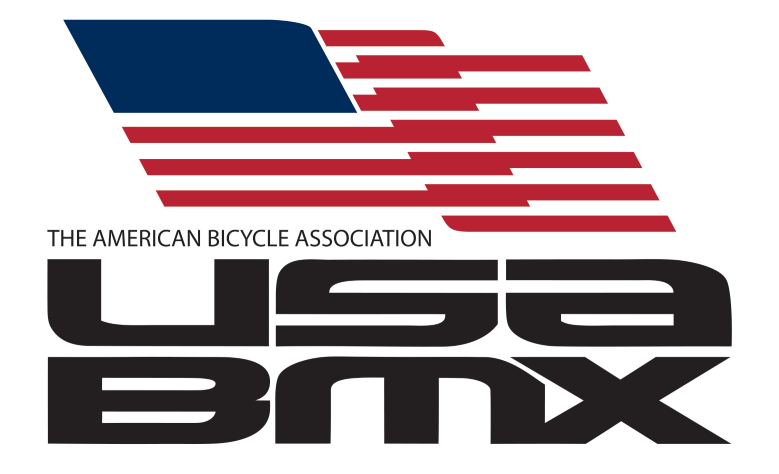 vMix in use at the USA BMX Grand National!
vMix was used to produce coverage for the USA BMX Grand National, which is the largest BMX racing event in the world!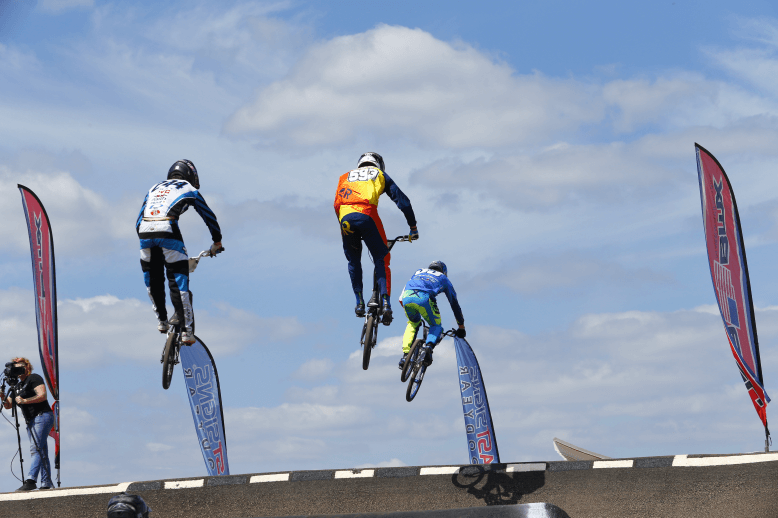 USA BMX Grand National
Since 2013 USA BMX has been using vMix to produce their live events. The first event that USA BMX used vMix to cover was the 2013 USA BMX Grand National which is the largest BMX racing event (participant wise) in the history of the sport! After using vMix for that event George from USA BMX said, "After we saw what the program could do we were convinced that we had found a solution that was not only cost effective but could be customized specifically for our needs". They have since used vMix for the 2014 USA BMX Grand National and their 2015 North American Supercross Series with great success. It will also be in use for the 2015 Grand National in November. They broadcast the event over 3 days, which is streamed out via their YouTube channel to over 150,000 viewers throughout the weekend!
The Setup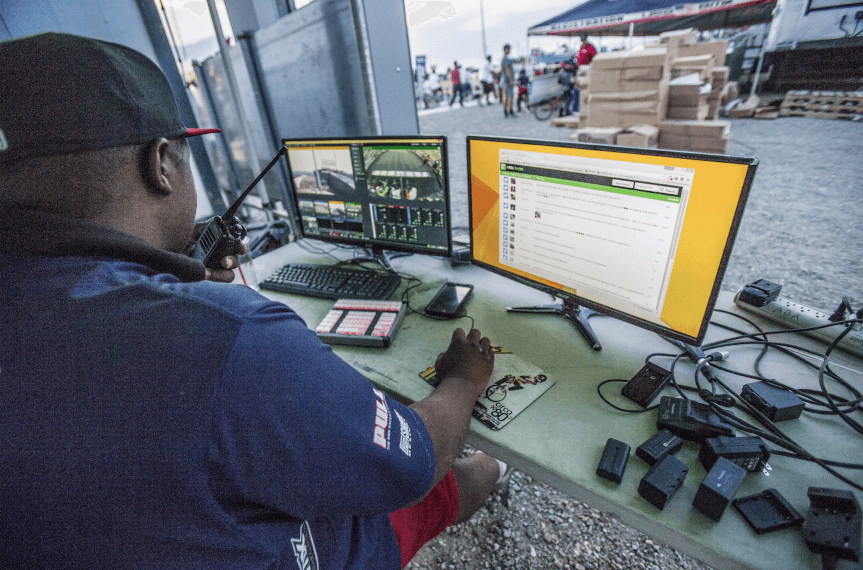 The production for the USA BMX Grand National involves many roving cameras with wireless transmission in order to catch all of the action. They've used up to 7 cameras including 3 Panasonic HPX 170's, 3 JVC GY-HM710 and a Go Pro Hero 3 Black. These feed back to their custom i7 PC through 2 Black Magic Decklink Quad cards. To get the field signals back to their computer they're using various Teradek products. This feed is then sent out to 2 Jumbotron screens at the live venue and streamed to their YouTube Channel.
The Verdict
vMix streamed their most recent event, the Mile High Nationals, for 3 days and 15 total hours! Shooting live action sports with stationary and roving wireless cameras works great with vMix and can be seen by their awesome production. George says, "I can't imagine using anything else for what we do. No other system offers the customization that vMix offers and that is priceless in my eyes."
vMix in Action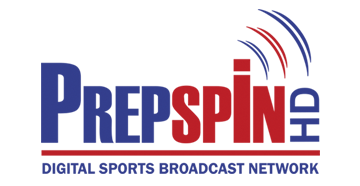 vMix in use at Minor League Baseball games with PrepSpin.com
vMix is used by PrepSpin.com to cover high school sports, college sports and Minor League Baseball!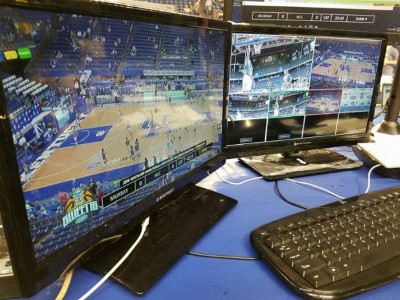 Prepspin Digital Sports Broadcast Network
PrepSpin.com was created to highlight student athletes online through rich digital media. Their service continues to open doors for coaches and student athletes at the next level while also promoting local schools and programs. After thousands of dollars spent and many disappointments, PrepSpin finally found vMix and has used it with great success. William from Prepspin said,"We have bought those expensive encoders and other software solutions that were not able to handle what we threw at it. vMix has been our 'Game Changer' and we have never looked back."
The Setup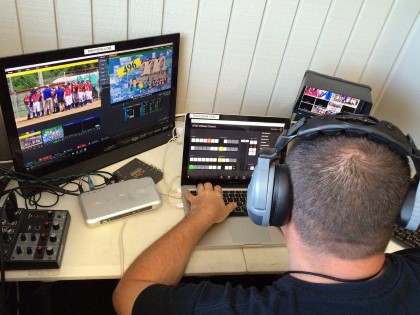 Their most recent usage has been at the Lexington Legends Minor League Baseball team. The Prepspin setup includes 5 cameras around the ballpark and a Blackmagic Design ATEM video switcher that is connected into a custom built "vMix Streaming Tank". The Streaming Tank includes an Intel i7 CPU, Nvidia 970 graphics card, and 16GB of DDR3 ram. The video sources include an Osprey card to take in replay, a Blackmagic Design Decklink Mini Recorder for video input from the ATEM, and a Blackmagic Design Decklink Mini Monitor for video program output.
Prepspin stream to YouTube at 1080p for most of their clients and also send out a video signal to the concourse. They also record to SSD at the same time. For Scoreboards they use the live-score-app.
The Verdict
William gave a glowing report of his vMix use for Prepspin. "We love that vMix is the total solution for our needs. The dashboard is beautifully designed and easy to understand. We highly recommend it for all your production needs. You won't be disappointed. PrepSpin is truly a fail your way to success company and we don't know what we would do without vMix. A true game changer for us!"
vMix in Action

vMix in use with Australian Sports Network!
vMix is used by Corporate James to produce live content for Australian professional basketball franchises- The Sydney Kings and Illawarra Hawks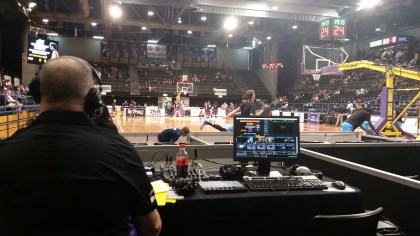 NBL Preseason Games and live audio streaming.
The Sydney Kings and Illawarra Hawks are professional Australian basketball teams currently playing in the NBL. The production team behind Australian Sports Network (Corporate James) have been using vMix to help produce their live basketball coverage. They used vMix to live stream the video of preseason basketball games against Australian opponents and US college teams such as LSU, Cal, UCLA and Washington Huskies. With such interest in US college basketball, vMix allowed them to live stream to eager fans in the US. Due to television rights, they aren't able to stream the video of the regular season games but they use vMix to stream the audio commentary for each game and use their own custom graphics created in Adobe Photoshop, AfterEffects and Microsoft Expression Blend.
The Setup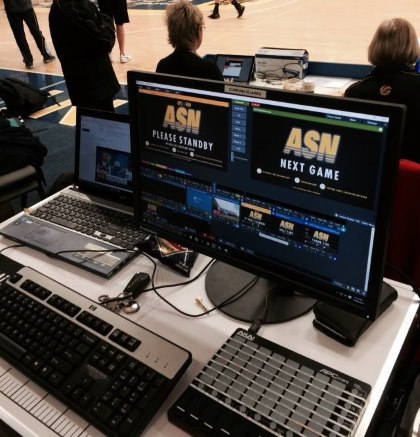 The video production of a game involves a purpose built PC that includes an I7 4790 processor, ASUS Z97 Deluxe motherboard, Geforce GTX 970 GFX, 2x Blackmagic capture cards and an AverMedia C027. As audio is very important to them they use the following audio set up- Behringer UMC 404HD, Samson S.AMP Stereo Headphone AMP (provide 4 x outputs to broadcast headsets), 3 x Audio Technica BPHS1 Broadcast Headsets. The production uses an AKAI APC Mini which they have custom labelled for full midi control of their production. They use a Sony Z1P HD camera with Blackmagic Convertor to SDI for their main camera, Canon 70D when required plus combination of other cameras that become available. Logitech C920 is used for close up camera for commentators. Finally the production is streamed out to Youtube and Facebook in HD to the Australian Sports Network Youtube channel.
The Verdict
vMix has allowed James to create great live sports productions with a very small crew. James says, "vMix has changed our production and taken us to next level. We are looking forward to be able to offer action replay to our Preseason Stream next season for our fans. No other product has the features and power of vMix."