Produce awesome live streams of your gaming events through vMix!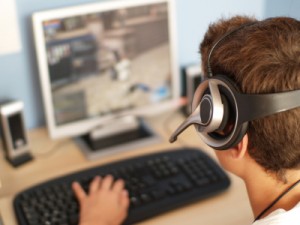 Live stream all of your action
Live streams are the most common way for people to connect with eSports or your gaming stream. vMix integrates directly with Twitch, so you can be streaming your gaming session to your channel in no time with great quality!
Create a great live eSports production
Creating live eSports events or gaming streams is easy through vMix! eSports events require the action on small computer screens to be displayed on large screens for the audience to see. You can output your vMix production to these large screens to provide an exciting production for your live audience to watch!
Don't miss any of the action
You can use vMix to record your game to edit later or to use for a compilation video!
vMix in Action

vMix in use with eSports tournaments
In order to produce the Six Lounge Series for Ubisoft, the production team from Fankhi used vMix for producing the show.
Six Lounge Series Final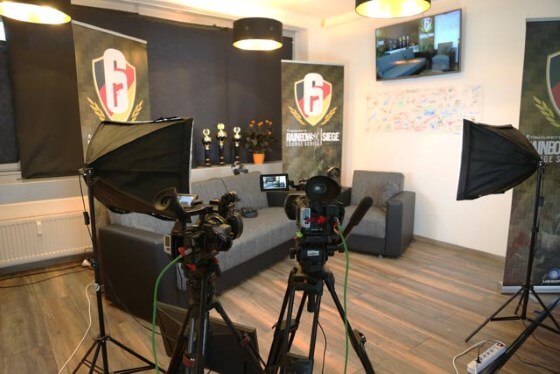 vMix was used to produce the Six Lounge Series finals in Germany. This is a quarter-yearly online eSport tournament for amateurs as well as professional teams for Ubisoft's competitive online multiplayer shooter Tom Clancy's Rainbow Six: Siege. After a month of online qualifiers the 2 best teams are invited to play each other live in Berlin to determine the series' winner. The final was streamed out to Twitch and Youtube on the official Ubisoft channels.
The Setup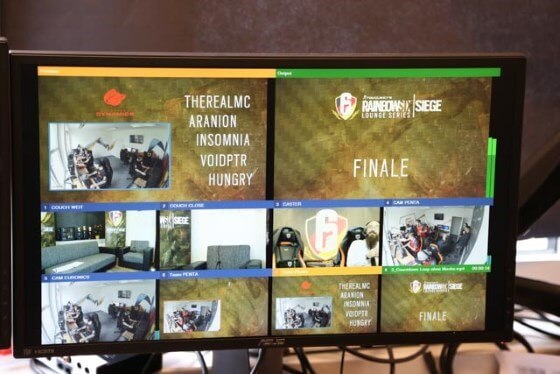 Faced with the challenge of creating a show with multiple sets, live content, live gameplay and pre-produced content Fanhki turned to vMix for the production. They had a production team of 3 and needed to make sure that they would be able to produce great content that was being pushed out to 25 monitors/beamers across the whole location as well as a live feed being streamed to Twitch and YouTube. By utilizing the vMix Web Controller on several tablets and smart phones they were able to assign shortcuts for all the necessary tasks without sacrificing on location mobility of their 3-man team!
For their main production the team used-
A water-cooled i7 6700k with a 8 GB Geforce GTX 1080, 16 GB of RAM and 2 Samsung EVO SATA drives.
2x PCIe Blackmagic Decklink Duo2 cards for capturing cameras.
1x PCIe Elgato HD 60 Pro capture device to capture the casters spectator mode gameplay
1 x Sony PMW-200 Camcorder for the casters (SDI)
2 x Sony PMW-200 Camcorders for talkrounds (SDI)
3 x Garmin VIRB Ultra 30 Fisheye Action Cam (as a GoPro alternative) (Micro HDMI converted to SDI)
For audio-
To produce a clean audio feed to use in vMix and for the PA system on location they used a digital audio mixer from Yamaha (Yamaha LS9 16) connected to a Komplete Audio 6 Interface from Native Instruments.
The event was streamed out live to twitch.tv with 1080p/30 and a bitrate of 5000 kb/s. As the client wanted to go to YouTube also,
restream.io
was used to stream to both locations. Over 45,000 people viewed the stream!
The Verdict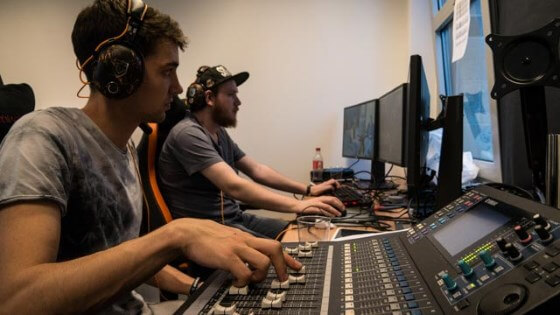 Using vMix as our primary production tool has ultimately enabled us to take on bigger productions with smaller teams. The reliability and flexibility vMix offers is just unmatched for a small production business like ours.- Michael, Fankhi
vMix in Action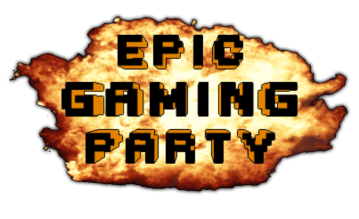 Using vMix to produce gaming events.
EpicGamingParty is a startup production company in Atlanta, GA with the goal of hosting gaming events outside of the typical tournaments or LAN parties. Using Twitch livestreaming and YouTube videos, they are able to entertain an online audience as well as the attendees watching live at the events. Their biggest challenge has always been finding a way to livestream the displays of multiple computers, as well as multiple cameras, with easy switching. Another challenge has been giving the other attendees at events a chance to see the action without having to stand behind the players watching over their shoulders.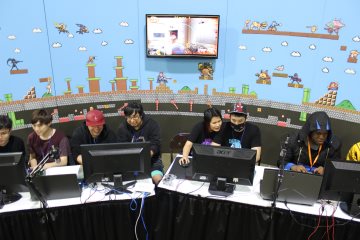 MomoCon 2017
vMix was used by EpicGamingParty to produce a live broadcast at MomoCon 2017 in Atlanta. They were allocated a large space on the gaming floor so they need to create a live show and also entertain a sitting audience that was at the convention.
The Setup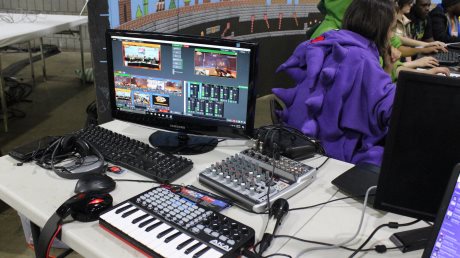 EpicGamingParty set up gaming stations for competition at MomoCon that was then streamed and also displayed locally on a large screen. EGP ran various games on the stations and then used NDI to bring back to a main computer for switching and streaming. The players were also captured via a front on Sony HD camcorder and Logitech Webcams.
Streaming PC: AMD FX-8300 8-Core Processor, 12GB Ran, Nvidia GTX1060
Gaming Computers: Dell, Acer, and Alienware Gaming Laptops (7 Total)
Main Camera: Sony HD Camcorder
Camera Capture: BlackMagic Decklink Mini Recorder
Gaming Capture: NDI Streaming via closed LAN
Secondary Cameras: Logitech C920 and C270 Web Cameras
Audio: Behringer Xenyx Q1202 USB Mixer with 2x Neewer NW-700 Condenser Microphones
The production was then streamed to Twitch at 1080p/30 and a bitrate of 3500 kb/s. The output from vMix was also displayed on a large screen for viewers to watch at the convention.
The Verdict
Without vMix we could never handle as many inputs or have such fluid switching without expensive and ultimately limited hardware solutions. Using independent external outputs, we can finally entertain audiences at events, as well as our online viewers, in a way we could only imagine before.- Shawn, Executive Producer.
vMix in Action

vMix being used in gaming tournaments
vMix is used by gaming tournaments in order to produce, record and stream to live and online audiences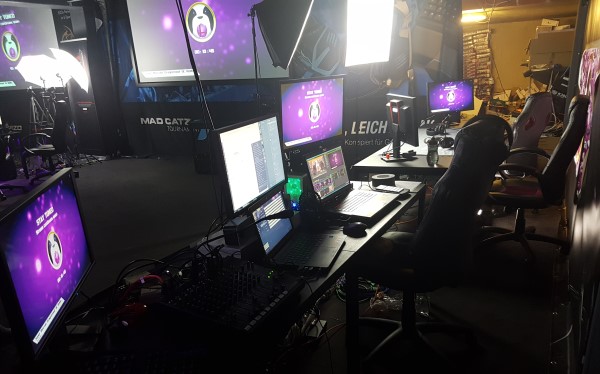 Super Smash Brothers Tournament
Liva from Geeky Goon Squad has recently produced some Super Smash Brothers tournaments with vMix in Europe. One event was "PPT Winter" (PPT = Pandali's Pandamonium Tournament), a videogame tournament held at the E-Sport Club Munich located in Munich, Germany. The competition was based around Super Smash Brothers on Nintendo Wii and featured singles and doubles with 150 competitors taking place. There were many German contestants as well as high ranking players from USA, Spain, Israel, Netherlands and England!
The Setup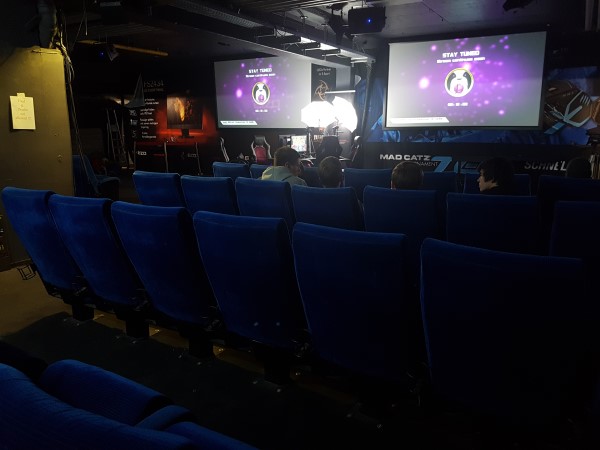 This whole production was amazingly run by just 1 person! There was plenty of action going on and involved a lot of different elements. In order to create a good tournament stream you need to capture as much of the action on-screen as well as capturing player and crowd reactions. This involved capturing the Wii U gameplay, both teams/players, crowd reactions as well as a commentator studio. A good gaming stream also needs great audio to capture the excitement of the commentators and atmosphere! Here's some of the information.
Computer setup-
XMG Notebook use for the production
CPU: i7-4800MQ @ 2.70 GHz
GPU: Nvidia GTX 880M SLI
RAM: 16GB DDR3
SSD: Samsung 850 EVO 500GB for OS and Software
M.2 SSD: Kingston SMS200S 120GB for recording
Cameras
CanonXF 100
for the commentators, 2X
Sony HDR-CX240
for each player and
Marshall CV500-M-2
with a fisheye lens to capture the players and audience. The HDMI cams used mini converters to SDI, ready for capturing.
Capture
To capture the gameplay via HDMI at 1080p60 a
Micomsoft XCAPTURE-1 USB 3.0
capture device was used. The other cameras were added to a
Magma ExpressBox T3
which connected to the Notebook via Thunderbolt. The cards in the external box were both 4XSDI capture cards allowing for up to 8 SDI inputs to the Notebook. The 2 cards installed in the box were the
Magewell SDI Quad Pro
and
Yuan SDI Quad.
Audio
They used a
Mackie VLZ4 1402
for mixing and the commentators used Audio-Technica bphs1 headsets. The sound from the game console was set to mono and then connected via XLR through a DI box. The music that was used during any breaks came from an external PC controlling the overlays. In vMix they set all trailer videos to output audio to the A bus, which output the sound to the mixer. The commentators got a fixed mix, only listening to themselves and the game audio using AUX 1. The main mix went back into the vMix computer, directly into the master mix and to the stream and recordings. AUX 2 was used for the venue audio, since in this particular e-sport game they don't want the commentators to be heard by the players, so it was mostly game sound only except when trailers were played or an interview was done.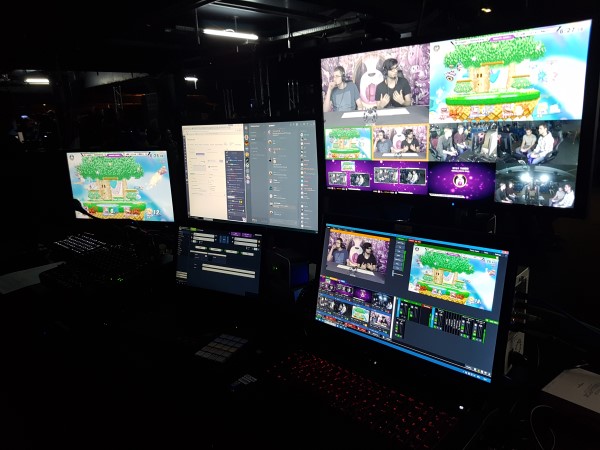 Control
As the production was 1 person show, it was important that most tasks could be done with a press of a button. An
X-Keys XK-24
was used on the vMix computer with shortcuts to provide easy control over the mixing.
Streaming
Along with 270 people watching at the event the production was streamed out to
Twitch
at 720p 59.94 fps @ 3,500 kbit/s. Over the weekend the stream had 30.4k views (Friday), 69.8k views (Saturday), 80.2k views (Sunday)!
The Verdict
After using different software in the past, vMix has opened up more production features and created an easier workflow with the addition X-Keys. Here's a video from the event.

vMix in Action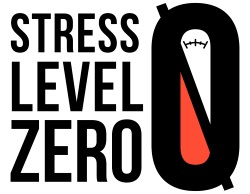 vMix in use at Stress Level Zero!
vMix is used by game development company Stress Level Zero for their game streams and dev videos. These can be seen via their Twitch channel.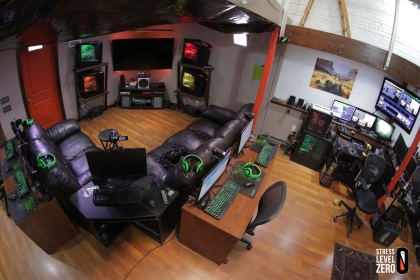 Stress Level Zero
If you're interested in VR gaming or the HTC Vive, you would have heard of Stress Level Zero, developers of Hover Junkers. Before this, Stress Level Zero started out as a gameplay streaming channel where they would stream live edited content using the setup that is detailed below and in the video. As they're currently in development mode for Hover Junkers they are currently using vMix mainly for streaming their game development.
The Setup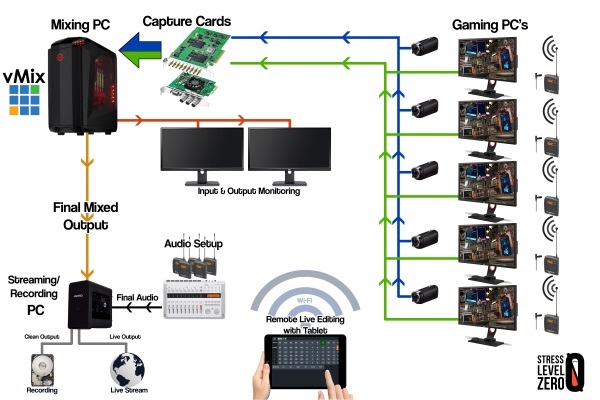 For the main gaming streams at Stress Level Zero they capture, stream, and live edit 5 gaming computers with 5 locked cameras and 2 mobile cameras. Which all get converted to SDI using a HDMI 4k to SDI converter box. Those SDI cables go to the capture cards inside the mixing computer. From this mixing computer they create scenes, add delay, and match up all the inputs using vMix. This is then live edited from a mobile tablet using the vMix Web Controller, allowing the editor to be closer to the action. After the live mix is created the final output is sent to a second recording and streaming pc. This PC takes the final output and adds the final audio, music, overlays, donations, text, and extra graphics to their live stream.
The Verdict
"Without vMix we could have not created our live stream channel on an affordable budget. It is also one of the only pieces of software that allowed us to add delay to the game feeds. Without this we would not be able to live edit and still hit all the action moments that happen so quick in gaming. vMix is the most flexible and expandable software I have found on the market. Without vMix we would not have been as successful with our live stream gaming channel."- Spencer, Stress Level Zero
Here's a recent video showing their office set up.