« Back to Knowledge Base
A number of bundled pieces of software with laptops and PCs has been found to interfere with the graphics card and cause problems with programs like vMix.
Some examples include GeForce Experience and Asus Sonic Suite (Sonic Radar) which have now been turned off if you have vMix 21 or higher installed.
Therefore we have released the vMix Diagnostics Beta tool. This is a free utility that will do a quick scan to identify and report programs that run in the middle of vMix and the graphics card, potentially reducing performance and causing other issues.
To run vMix diagnostics, make sure you have the latest version of vMix installed. Then open vMix and select the Hamburger menu item button (button with 3 lines at the bottom right corner) and select the vMix Diagnostics option.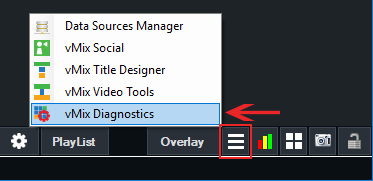 Instructions
Select and open vMix Diagnostics from the vMix hamburger menu
Optionally select the graphics card to use and click Scan.
Who should try this
Anybody that is experience flickering issues or high render times should give this app a try and see what it says.
Or if you are just curious if you have any software installed that might cause problems in the future.
This utility is completely non-invasive and informational only, so you don't need to worry about it disabling software on its own, that is up to you.
Last Updated: Friday, August 17, 2018 9:43:50 AM