« Back to Knowledge Base
If you've spoken to us or watched one of our videos you may have heard the words "Hamburger Menu". Unfortunately this is not a way to order hamburgers from the vMix interface and doesn't mean we have any plans to launch our own fast-food chain. A Hamburger Menu is typically a small icon with 3 horizontal lines that indicates that there is an expandable menu available. These menus have become increasing popular over the years as more and more people use websites on their phones and there isn't as much screen real estate available. We liked the name, and we needed a small icon to use for our menu, so we too adopted the Hamburger Menu for use within vMix.
The Hamburger Menu can be found in the bottom right-hand corner of the vMix interface and contains some easy access to various vMix functions. Some of these include the vMix Title Designers, vMix Video Tools and the Data Sources Manager.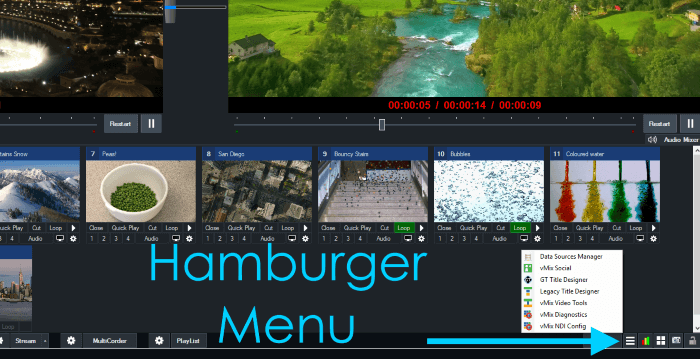 Last Updated: Monday, March 8, 2021 5:12:36 PM