« Back to Knowledge Base
You may receive a "can't be opened" error when opening vMix Desktop Capture for OSX
You may receive the following error when opening
vMix Desktop Capture for OSX
: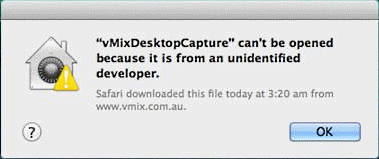 By default all new installations of OSX will block some new programs downloaded via the Internet.
To run vMix Desktop Capture for OSX without this warning:
1. Right click the vMix Desktop Capture icon and click Open from the menu
2. The warning window will now have an Open button. Click this button to start the program.
Last Updated: Tuesday, July 24, 2018 4:51:23 PM