« Back to Knowledge Base
Error when Installing or Updating vMix
When you install vMix or run the vMix Update Tool, during the installation process it will ask you to confirm closing some programs so that vMix can complete the installation.

After confirming, you may receive the following error:
For new installations:
"Setup was unable to automatically close all applications. It is recommended that you close all applications using files that need to be updated by Setup before continuing."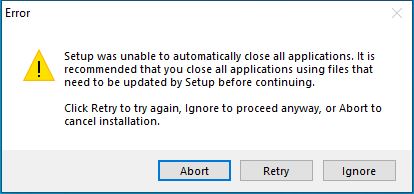 When updating an existing installation:
"An error occurred while trying to replace the existing file:
DeleteFile failed; code 5.
Access is denied."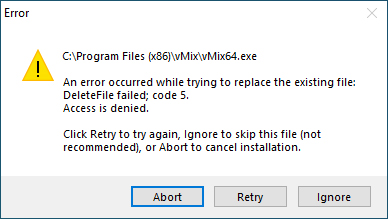 When receiving these errors, firstly make sure all other programs are closed and then try clicking the Retry button. If it still shows the same error, then this means that not all programs have been closed properly. Applications that may stop the installation from occurring include any that use cameras. As well as applications like Skype, Zoom and Chrome. You may need to quit programs such as Skype from the Windows task tray to ensure they have been quit completely: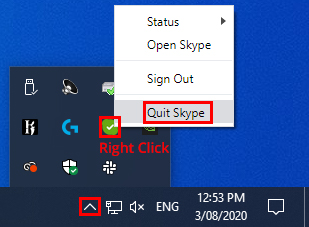 Last Updated: Monday, August 3, 2020 1:05:26 PM