« Back to Knowledge Base
How to configure vMix to send Audio out to your Fullscreen Output TV or Output Source
If you are using Fullscreen Output to send video to your output display (such as a TV), but would also like to send audio out to the same TV, then this needs to be configured separately via the Audio Output settings. For example, you may have a HDMI cable from your computer to your TV showing your vMix Fullscreen Output. But would like to send the vMix Audio out via the same HDMI cable to the TV speakers.
To do that, do the following:
Step 1
Open vMix and your vMix preset. Select Settings from the top right corner of vMix.

Step 2
Select the Audio Outputs tab. Change the Master Output setting to the port on your graphics card that the fullscreen output is going to. This option will differ depending on your graphics card. For example, if you have an NVIDIA graphics card this may be called "NVIDIA Output (NVIDIA High Definition Audio)". There may be a few of the same option, which represents the different ports on your graphics card. So you may need to test each option till you find the same one.
Otherwise if you have already plugged your screen or TV in, this option will change to the device name. For example it may say Samsung TV or similar instead. Once done press OK.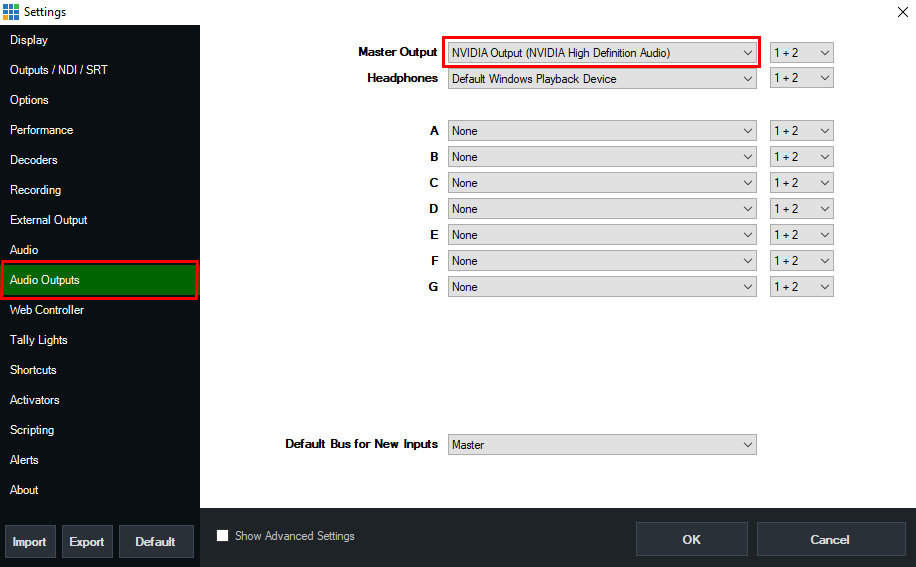 NOTE: If you are using your Master Output for something else and would prefer to send a different audio output to your TV, then you can instead choose one of the Buses such as Bus A to send the audio to. If you do this, you need to also make sure you enable the "A" bus button on all inputs in your audio mixer you would like to send to there.
Last Updated: Thursday, July 8, 2021 9:16:22 AM