« Back to Knowledge Base
Connecting the RODECaster Pro to vMix via ASIO
RODE has released firmware for the RODECaster Pro that offers individual audio channels to be brought into vMix via ASIO. This provides vMix users with control over every audio channel coming in and allows vMix to send an audio feed out to the RODECaster Pro as well.
Special Note: This article explains how to set up the RODECaster Pro audio via ASIO in vMix. MIDI controls and Activators are not supported at this time.
These are the 3 steps you will be taking to connect your RODECaster Pro to vMix via ASIO:
Set up the RODECaster Pro to communicate over ASIO via USB
Add your RODECaster Pro channels (microphones, sound effects, etc) into vMix individually
Set up a vMix audio bus to send specific audio back to the RODECaster Pro so that the mix can be heard in headphones that are connected to the RODECaster Pro
Step 1. Connect your RODECaster Pro to your vMix PC and then download and install the latest RODECaster Pro firmware (version 2.1.2 or higher) and the latest RODECaster Pro Windows ASIO driver. These can be found on the RODE website here:
Once you have installed the new firmware on the RODECaster Pro and installed the ASIO drivers in Windows, then, on the RODECaster Pro touchscreen, go to the [Settings gear icon], then [Advanced], then [Audio], then [Multitrack] and set up the Multitrack features like this: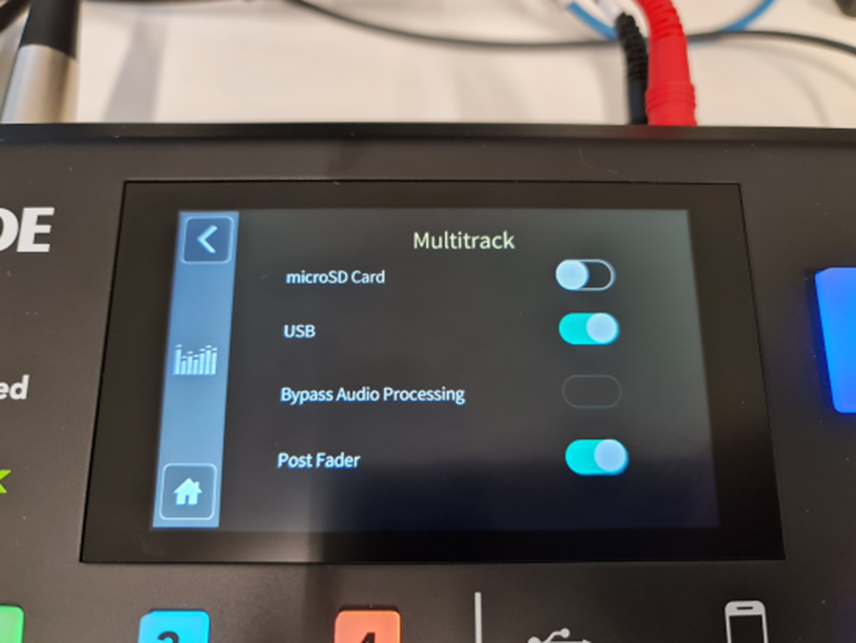 Step 2. With the above settings, you should be able to add your individual microphones, Bluetooth input, sound effects, etc into vMix. To do this, open vMix and then click on [Add Input], then select the [Audio Input] section, and then from the 'Audio Device' dropdown list, select RODECaster Pro ASIO.
Now, from the 'Audio Channels' dropdown list, select Mic 1 for example, and this will add the first channel from the RODECaster Pro (Mic 1). Then repeat this process for every channel you wish to add; being sure to avoid adding channels with 'USB' in the title, because they are reserved for step 3.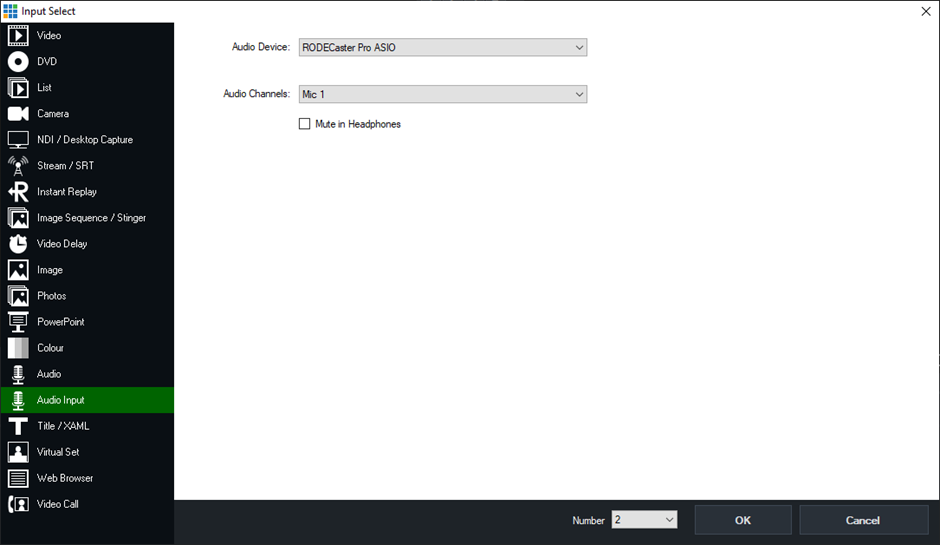 Step 3. To send audio from vMix to the RODECaster Pro. Click on [Settings] in vMix, then [Audio Outputs], then set a spare Bus to output via RODECaster Pro ASIO. In the below example Bus A has been selected.
Now click [OK] and if you are prompted to restart vMix, be sure to allow this; no progress will be lost.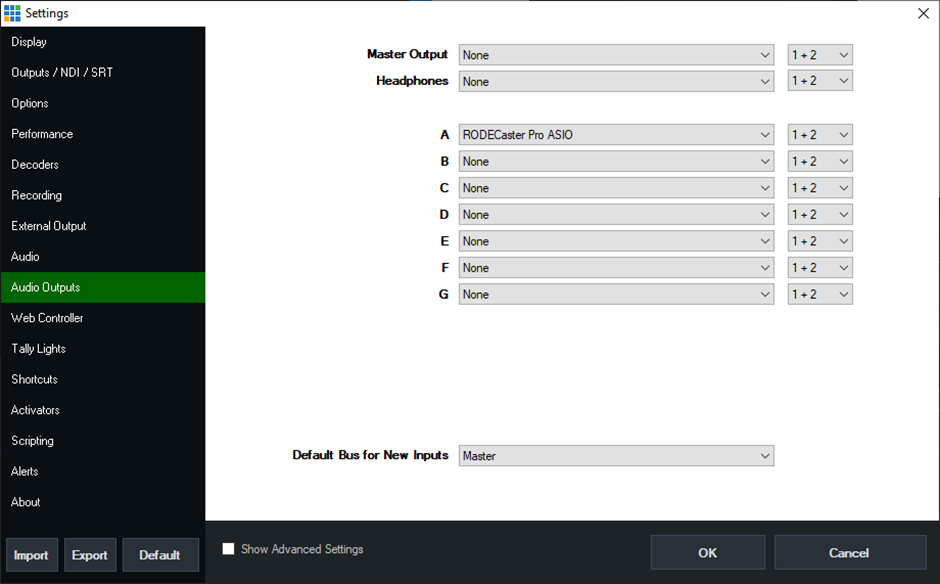 Now go to your Audio Mixer Inputs in vMix, and for those inputs that you would like audio to flow back to the RODECaster Pro, add them to Bus A (or whatever bus you picked earlier).
Special Note: Avoid returning audio that originated from the RODECaster Pro or you are likely to cause an echo. See the below example where some audio inputs have been added to Bus A but not 'Audio Mic 1' because that one is coming from the RODECaster Pro: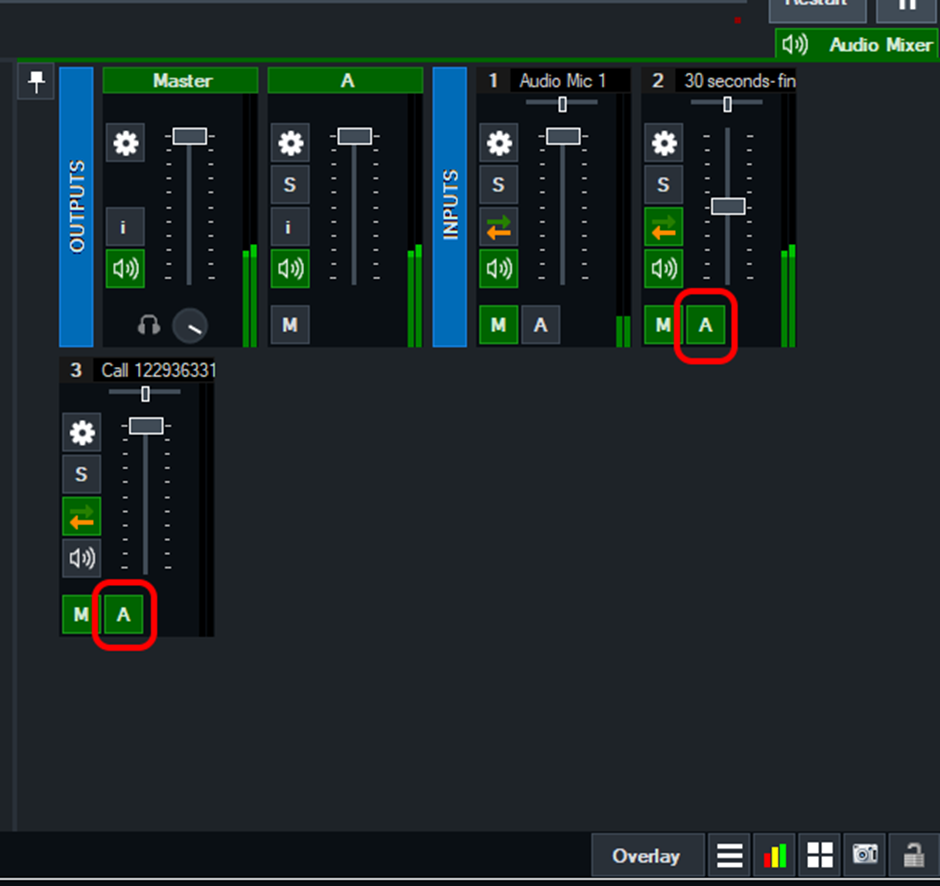 Last Updated: Tuesday, July 27, 2021 6:14:23 PM