« Back to Knowledge Base
"The underlying connection was closed" error when attempting to register or activate vMix
The following error may appear if you try to register or activate vMix. This includes activating a new vMix registration key or switching between keys.
The underlying connection was closed: An unexpected error occurred on a send.
Registration
Unable to read data from the transport connection: An existing connection was forcibly closed by the remote host.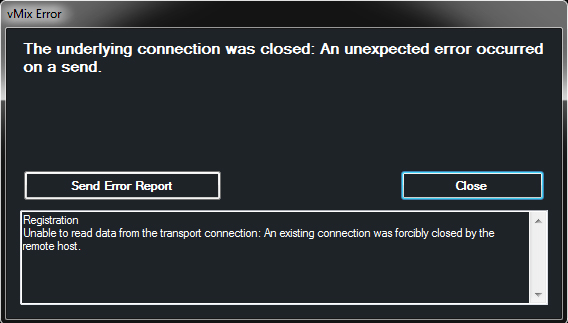 Windows 7
This is most commonly caused by using Windows 7. Microsoft is no longer supporting Windows 7 and as a result does not natively support some of the latest security requirements. Due to this, it is unable to successfully connect to the vMix servers for activation and registration.
vMix is not supported on Windows 7. So it is recommended to upgrade to Windows 10 which will fix this issue.
Windows 10
If you are using Windows 10, then this means that an important security feature has not been enabled. Which is TLS 1.2 support. So firstly make sure that your Windows is up to date by running all available updates to see if that fixes the issue. Its is important that you are running the most recent version of Windows 10 (10.0.19044 Build 19044 or higher) otherwise you may still encounter this error. As long as you have a valid Windows license and you are running the latest Windows Updates, this should solve the issue.

If you believe this is a different issue, then you can send us a support request and support report via our Contact Form:
Last Updated: Wednesday, March 23, 2022 8:56:07 AM